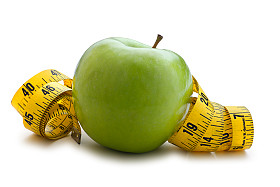 (Photo: Getty Images)
Put down that light yogurt, it may be making you fat. As it turns out, a number of foods that are commonly thought to be great for
weight loss
can actually stimulate the appetite. We spoke with
Marjorie Nolan, R.D.
, National Spokesperson for the
American Dietetic Association
, to get the skinny on foods that can trigger hunger and sabotage your diet.
1. Light yogurt
The blast of sweet (often artificial) flavor causes the stomach to start producing gastric juices. With only four to six ounces of yogurt and no fat in a typical container, the body doesn't have enough food to digest leaving the tummy rumbling for more.
Better choice: Nolan likes the creaminess and high protein content of plain, low-fat Greek yogurt. Add fruit and a sprinkle of cinnamon for flavor. If you choose the non-fat variety, add a tablespoon of sunflower seeds for crunch and satisfaction—the fat in nuts and seeds is slow to digest so a small serving keeps you feeling full.
Related: The new Nordic diet: The next big weight loss trend?
2. Puffed cereal with skim milk
The combo of skim milk and puffed cereal has too few calories to keep you energized for long. Many dieters reach for puffed cereal because it looks filling in a big bowl. However, the low fiber content leaves you wanting more soon after breakfast. Puffed cereal also has a high glycemic index, which causes blood sugar to drop after an initial boost of energy.
Better choice: Rolled or steel cut oats. Oatmeal is high in fiber, which makes it a satisfying breakfast. Add a spoonful of maple brown sugar if you need something sweet. Cooking your own plain oatmeal and adding a small amount of sweetener is much more nutritious than using pre-sweetened packets. Nolan likes to cook oats with low fat milk or stir in a tablespoon of peanut butter for even more stick-to-your-ribs goodness.
3. Big green salad with low fat or fat free dressing
The typical dieters' lunch of a salad with low fat dressing can have a boomerang effect on the appetite. It's full of fiber and visually filling but the low protein and fat content won't satisfy for long. Stay away from fat-free dressings, which are loaded with sugar.
Better choice. Add three to six ounces of lean protein such as lean beef, chicken, or beans (the leaner the choice, the more you should eat) to your salad bowl.
4. Rice cakes
One rice cake=good, four rice cakes=overindulgence. And that's about how many it will take to feel truly satisfied. Low in fiber with a high glycemic index, these classic diet snacks won't leave your tank full for long.
Better choice: Spread a tablespoon of peanut butter or cream cheese onto a rice cake for a more balanced nosh. Or choose whole grain crackers with a spread or small portion of cheese for fiber and carbs plus protein.
5. Chewing gum
A little stick of gum is a stealth saboteur. While some chewing gum advocates say that it can stave off snacking, Nolan disagrees. She explains that the burst of flavor gets the gastric juices flowing. The act of chewing revs the digestive system even more, preparing it for a meal. If you want an express ticket to the all-you-can-eat buffet, chomp on some gum.
Better choice: We all have our munchy days, so if you are just looking for something to keep your mouth busy, air-popped corn or raw veggies are a safer bet.
6. Diet soda
Like gum, the sweet flavor wakes up the digestive process with no nutritional pay off which stimulates the appetite. Caffeine and carbonation may dampen your hunger pangs for a short time only to have them come roaring back along with an energy slump. If that's not enough to make you rethink your daily fix, a study carried out by the University of Texas Health Center in San Antonio showed that people who consumed diet soda had a 70-500% increase of abdominal fat over ten years compared to those who didn't drink diet soda.
Better choice: Drinking a hot beverage can slow down the appetite and allow you to think through your craving. Also, sometimes thirst signals are confused with hunger, so you may just need hydration. Non-caffeinated herbal teas won't cause an energy crash.
7. Apple
Yes, apples are great for you—they contain lots of vitamins and fiber, but a single apple is not a balanced snack. If you don't eat anything else with your afternoon apple, you may overeat at dinner.
Better choice: Apple with 5-10 almonds or a cheese stick. Spend a few more calories on your snack so you won't be ravenous later
8. Low-calorie frozen entrees
Light frozen entrees contain little fiber and only about half the calories you will need to feel satiated. They are also loaded with salt. If you don't have another option, look for a frozen dinner that contains 400-500 calories, 20-30 grams of protein, around 5 grams of fat, and 5-10 grams of fiber.
Better choice: If you are too busy to cook, Nolan suggests an "assembly based meal." Roast chicken from the deli, a slice of whole grain bread, some salad bar vegetables, and a piece of fruit add up to a quick, healthy dinner.
9. Fat-free graham crackers or other baked goods
Nolan says people who are watching their weight tend to automatically reach for food labeled "fat free" on the package assuming it is more diet-friendly than the regular version. However, when manufacturers make fat-free foods, they often up the sugar content. Check the nutritional information on the back--the light versions sometimes contain more calories.
Better choice: Regular graham cracker. A small indulgence such as a graham cracker or square of quality chocolate keeps things interesting and won't break the bank calorie-wise. Nolan points out that boredom is the enemy of dieters and causes people to fall of the wagon. "You are better off eating real food and more calories and feeling physically and emotionally satisfied than eating 'diet food' and being hungry in an hour